LIFE ReImagined: A Quest
(Created by Lisa Zimmer-Chu / Assemblage, recycled/repurposed found objects, 2020)
In our colonized, exploitative, capitalist society, the 'object' of the metaphorical game of life is to accumulate the most wealth to win. Indeed, as life imitates art and leisure, Milton Bradley updated its "Game of LIFE" in 1960, reflecting the era of planned obsolescence and perpetual growth.
It's past time to re-imagine the object of the game! We must change the goal if we are ever to achieve a different outcome.
The major issues of our time — coronavirus, racial injustice, the climate emergency, and economic inequality — are inextricably interconnected. That's what the Green New Deal is about, the truth that systemic problems cannot be resolved in silos. Yet it can be hard to see it all at once, to fit the pieces together into the giant mosaic that it is.
The following game board — assembled by Bay Area artist Lisa Zimmer-Chu with recycled/repurposed materials and found objects — serves as a model to collectively envision what our daily actions might be with a newly agreed upon goal: The moves on the game board.
It is a work in progress and is the framework for a collaborative project creating a digital game version.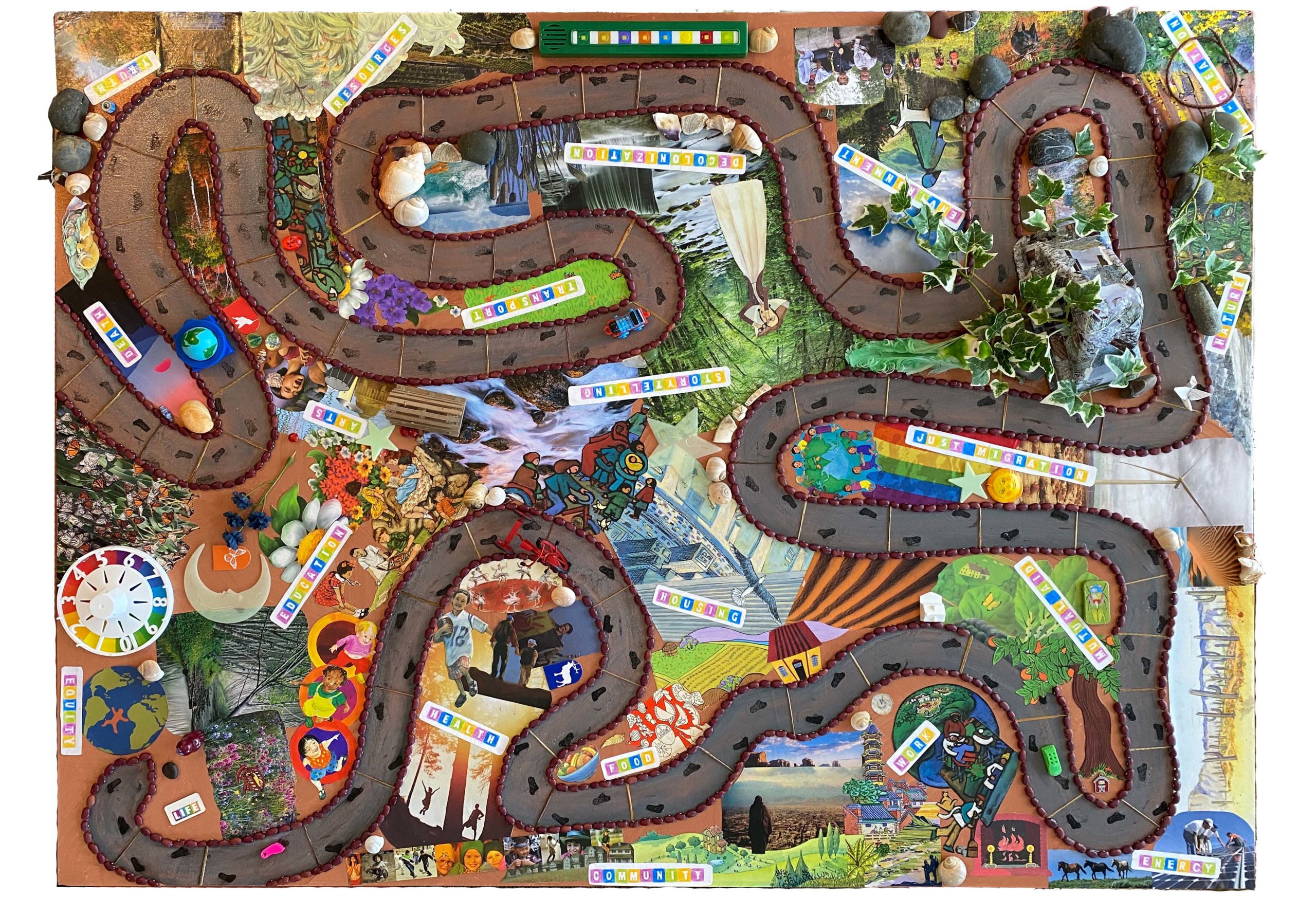 Please take this interactive opportunity to express yourself about what we can do as individuals and in community to achieve our shared, balanced vision. Imagine yourself as a player traveling along the path, starting by the 'LIFE field' area in the lower left corner. (If you're on a desktop, move along the path with your cursor to get a better perspective of the fields).
Using the concepts from the 20 fields, what ideas do you have for the actions players might take to build and maintain our ReImagined world? And what if each of these actions were viewed through the lens of Protect, Repair, Invest, and Transform, the pillars upon which A People's Orientation to a Regenerative Economy is built?
Below are the 20 fields, four pillars, and three sample actions. Think about one or several actions that represent your own and your community's vision and share them in the comments at the end. Let's ReImagine LIFE and the world we must hurry toward together. You must play to win!
(PS: If you'd like to get involved in other aspects of developing LIFE ReImagined, just drop us a line.)














You've been elected on a clean energy and just transition platform and have the decisive vote on your county's public utility board. You push for:
a) subsidized residential grid-tied solar storage systems
b) a feed-in tariff for solar panels on barn roofs to help farmers generate a secondary income while scaling up the municipality's decentralized solar grid.
c) a Community Choice Aggregation program to procure clean power from a non investor owned supplier
Your public school district has suffered from budget cuts disproportionately affecting BIPOC communities. Choose from the following actions:
a) Write a letter to the members of the school board demanding more equitable fund distribution.
b) Organize a School Strike for Equity
c) Run for school board on a Reparations platform
You've been tasked with developing a sustainability plan for your city. Residents of a once vibrant but now blighted neighborhood that was torn apart in the 1960s by a freeway voice their concerns about getting displaced by gentrification. Choose from the following actions:
a) Set up a series of meetings to listen to community needs
b) Negotiate an agreement to a Memorandum of Understanding (MOU) with community leaders before any projects get green lighted.
c) Include a food security and affordable housing mandate in the plan.